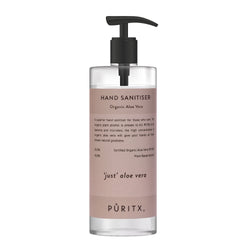 Hand Sanitiser Gel 250ml - Just Aloe Vera
A superior hand sanitiser for those who care. The natural plant based alcohol is proven to kill 99.9% of all bacteria and microbes; the high concentration of organic aloe vera and blend of essential oils will give your hands all their known natural goodness.
Each bottle of Puritx is formulated and approved to EN 1276:2019 : EN 1500:2013 standards.
Just pure Aloe Vera to soften & nourish.
Pump dispenser for social areas to share and protect your family, friends, colleagues or customers with all of Puritx's natural goodness. Approx 416 applications