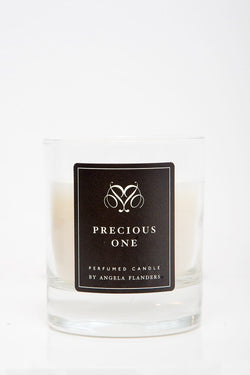 Precious One Perfumed Candle
A bewitching fragrance. Rich in exotic fleur des nuits, tuberose and jasmine lend their seductive charms to the top notes of Precious One. Floating on a base of softest green chypre, oak moss lends its warmth to the heart as layers of smoky vetiver unfold from the depths.
Awarded Best New Independent Fragrance 2012 - Fragrance Foundation UK.

Our candle, made by Angela Flanders, is of exceptionally high quality and longevity. It contains a high content of fragrance, ensuring its scent permeates and lingers long after the flame has been extinguished. Each candle is carefully blended and hand poured, fragranced all the way through and will burn right down to the bottom of the glass.

Estimated burning time is up to 40 hours of delicious fragrance.